Here is a list of the events that we will attend in the first six months of 2017. We are looking forward to meet and talk to you.
DVCon, San Jose (USA) February 27 - March 1
DVCon US will be our first event of 2017. DVCon attendees have the opportunity to take part in the many informal, but often intense, technical discussions that pop-up around the conference venue among 800+ design and verification engineers and engineering managers.

 
Embedded World, Nurnberg (Germany) March 14-16
Two Sigasi team members will be part of the group booth of eVision Systems, our reseller for Central Europe. Embedded World is the trade fair for all embedded electronics, for IT security for electronic systems, and for distributed intelligence.

 
ESC Boston (USA) May 3-4
ESC Boston is North America's Largest Embedded Systems Conference Series. Boston is booming. The area is home to America's second-largest embedded systems market behind Silicon Valley, and Embedded Systems Conference (ESC) Boston unites this thriving hub under one roof through industry education, sourcing, and networking. Back and bigger in its second year, ESC Boston connects you with even more software developers, hardware engineers, executives, and suppliers across the embedded systems space — so you can find faster, cheaper, and smarter solutions to your challenges.
DAC, Texas (USA) June 18-22
DAC is the premier conference devoted to the design and automation of  electronic systems (EDA), embedded systems and software (ESS), and intellectual property (IP). This year's edition will be held in Austin, Texas, at the Austin Convention Center. This event offers outstanding training, education, exhibits, and superb networking opportunities for designers, researchers, tool developers, and vendors.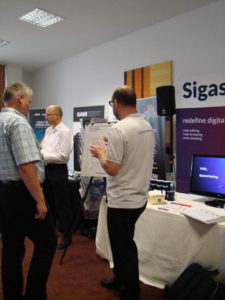 2017-01-16